Microsoft constantly improves their Enterprise Research Planning (ERP) business systems by including customer requests and implementing technological advances. Microsoft Dynamics GP 2015 R2 was just released and it is packed with updates that improve ease of use and deployment, and leverage deeper interoperability with Microsoft Azure.
We've prepared a quick overview for you.
Business Intelligence
SQL view designer: Users can now submit SmartList Designer queries to the workflow to create SQL views within the company database.
SmartLists:

Display debits before credits in SmartLists, Excel reports, and database tables.
Default new favorites to user vs. system: Administrators can now select the default visibility for new SmartList favorites.
Distribution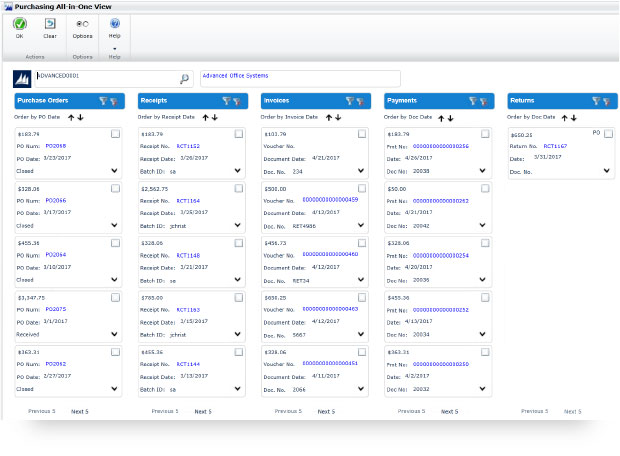 All-in-One Document Viewer: View all related purchasing documents for a single transaction in one window.
Historical received not invoiced report: Create a new SQL report which will have a cutoff date based on transaction date or GL post date, allowing customers to use the report for historical purposes.
Financial
Auto deposit cash receipts in bank record.
Analytical accounting transaction lists for SmartLists and Excel reports include more data and a column for each transaction dimension.
AP Invoice workflow approval for a single transaction in payables transaction entity.
Visual indicator for customer over credit limit: select display as an icon or warning message.
Combine open and history inquiries: view open and historical information in the same window.
Human Resources and Payroll
Hide/Show SSN on Payroll & HR Reports.
View W2: Employees can view and print their own W2s.
Combine GL Summary and Detail Inquiry Windows.
Time Management App: employees can enter vacation and sick time in payroll against benefit timecodes within HR.
System
Emailing for all sales/purchasing forms (Short, Long, Other).
Self service user type: support for an additional user type allows you to limit the navigation and functionality to essential tasks the new user will need.
Scriptable GP provisioning and management for PowerShell cmdlets to install, configure, and execute from remote computers.
If you have a Microsoft Dynamics user/license, you are entitled to this update. Microsoft partners can download Dynamics GP 2015 R2 via the PartnerSource portal here.
To find out more about updating your system, please contact us. We are here to help.